The 2015 Rally OiLibya of Morocco, a regular rally-raid of the FIA World Cup, was held from October 3 to 9. The five-day African rally has been a major race of the season. Over 200 competitors took part in a marathon stretching 2.255 km, which included 1.358 km of special high-speed sections. The rally of Morocco brought together a record number of bikes, quads, trucks, and all-terrain vehicles.
InstaForex Loprais Team headed by Ales Loprais won three out of five stages in the car/truck category. So, the Czech team was a close second in the final standings. Famous racer Ales Loprais met a challenge on the new truck named Iveco Torpedo. On the way to the cherished finish line, the team coped with tricky sand dunes in the Sahara desert, dried riverbeds, the foot of the Atlas Mountains, and other dangerous spots of the Black continent.
Citing the diary of chief driver Ales Loprais, "Rally OiLibya was an impressive event. Second most difficult marathon on our rally calendar this year." Despite the cracked windscreen at the final rally stage, the team won this stage and became the silver medalist in the ninth rally of the FIA World Cup (Car/Truck) of the 2015 season.
InstaForex Loprais Team thanks all fans and sponsors. This huge success is a perfect precursor to the next mission, the 2016 Dakar in South America.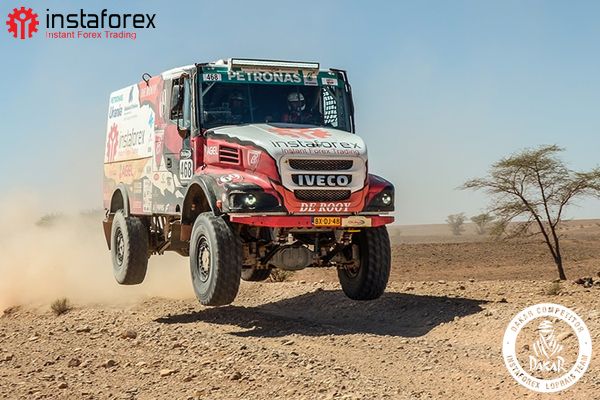 Video from the fifth stage: