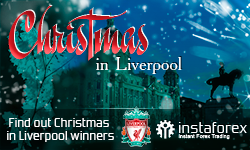 Not so long ago the Liverpool-number was fixed and the main prizes, which are the trips to one of the iconic cities of Great Britain – Liverpool and VIP-tickets with full hospitality to legendary Liverpool FC home match, were awarded to the campaign winners.
Liverpool-number (59818), which was fixed on November 14 at 23:59 (GMT+3), was most similar to 7360884, 1356740 and 1355978 trading accounts. After all the necessary checks Gabil Agaev (Russia, Rostovskaya obl.), Norhafizah Binti Abu Bakar (Malaysia, Kedah) and Pavel Pupko (Russia, Saint-Petersburg) were officially recognized as Christmas in Liverpool campaign winners.
We sincerely congratulate the three lucky winners with a victory in the two-month marathon and wish them success in the other InstaForex contests and campaigns!
To those campaign participants which were not so lucky we advise not to get upset and continue participate in the other exciting contests. One of them is Heading to Anfield. The prizes of this contest are VIP-tickets to Liverpool FC key-matches of season 2014/2015 second half, T-shirts and footballs with autographs of Liverpool FC's stars and bonuses from InstaForex. Heading to Anfield is one of the contests and campaigns held by InstaForex with the annual prize pool of over $500,000. If you are our client, you can win a part of this amount. 
Participate and win with InstaForex!